Natural Selection: 3. Example of wooly mammoths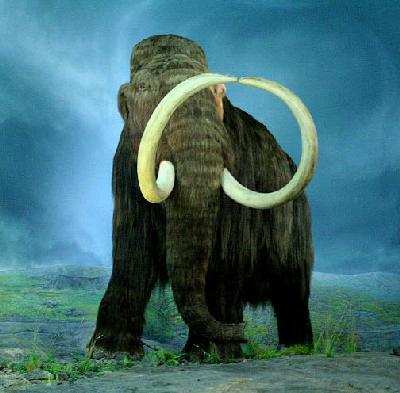 A wooly mammoth. It has several adaptations for the cold: a wooly coat of hair all over it, a large body mass and lots of fat under its skin.
A good example of natural selection is the evolution of the wooly mammoth. Mammoths are closely related to elephants and split from them around 4 million years ago. Wooly mammoths thrived in cold, northern parts of the world from about 350,000 years ago until they went extinct about 10,000 years ago.
So how did wooly mammoths evolve from their hairless, big-eared elephant cousins?
When mammoths found themselves in a colder environment, mammoths with variations that equipped them against the cold were better able to survive. Extra hair would have been a disadvantage on the African plains, but in colder climates even a slight increase in hairiness would have been an advantage. Each small increase in hair would have been selected for, until the mammoth was entirely wooly.
Other adaptions include more body fat, bigger size and smaller ears (African elephants use their big ears to dissipate their body heat, but this is a disadvantage in a frigid climate).
Further Details
There is a 2-minute YouTube clip on the evolution of the woolly mammoth from BBC science. It suggests that wooly mammoths used their long tusks to clear away snow, so that they could get at the small plants on which they fed.
The Origin and Evolution of the Woolly Mammoth by Lister, et al. 2/11/01 Science (not open)
About Mammoths from UCMP Berkeley
History of mammoth evolution
Earliest-found mammoths lived in south and eastern Africa 4 million year ago.
Ancestral Mammuthus meridionalis lived in Europe between 2.7 mya and 700 tya.
Steppe Mammuthus trogantherii lived 700 tya until 10 tya.
Wooly Mammuthus primigenius lived 350 tya until 10 tya.
They migrated from Eurasia to North America via the Bering Strait landbridge.
Other simple examples of evolution
Diseases. The evolution of the flu virus. Bacterial resistance to antibiotics. We killed the competition to antibiotic-resistant bacteria, allowing them to flourish.
Copyright
Text
Author: Tom Brown
Copyright: public domain
Date last modified: 13th Oct 2011
Peer-review status: Not yet peer-reviewed
Images
wooly mammoth: source: Wikipedia, copyright: CC, Attribution, Share Alike
African elephant: source: Wikipedia, copyright: GNU FDL