Dark Matter: 3. Other indications of Dark Matter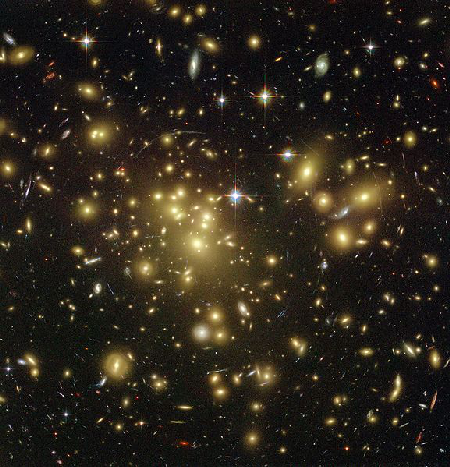 Galaxy cluster Abell 1689. The curved arcs in this picture are caused by gravitational lensing. The radius of the arc tells us how heavy the lensing object is.
There is a lot of other evidence for dark matter and we list only a few of them here.
Many hinge on the discrepancy between the masses of galaxies determined by adding up the matter we can see and comparing it to the mass inferred from their interaction with other astronomical bodies.
Once such example comes from gravitational lensing.[1] Because gravity bends spacetime, it alters the path of light as it travels through space. Heavy objects can act as lenses, focusing light from distant sources. The amount the light bends tells us how heavy the object is. Comparing this to the visible mass of the heavy object, there is a shortfall of 90%.
Other evidence comes from theoretical models that try to predict the evolution of the cosmos, working forward from the picture of the early universe given by the cosmic microwave background radiation. It turns out that dark matter is needed to seed the galaxies we see today.[2]