Solar Power: 4. Harnessing photosynthesis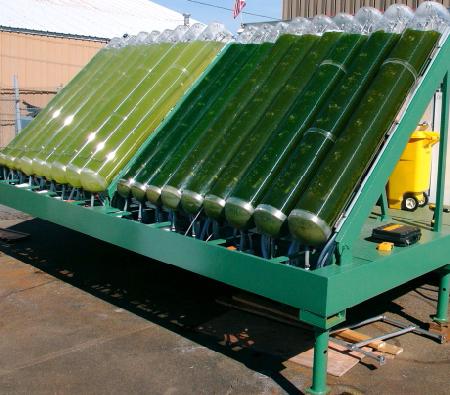 Algae in vats convert water and carbon dioxide into biofuels.
Plants use light from the Sun to strip hydrogen from water and then combine it with carbon dioxide to produce food such as sugars. This process is known as photosynthesis.
To use photosynthesis for energy we can either modify plants such as algae to generate more useable fuel like diesel or ethanol, or try to mimic more directly the chemistry of photosynthesis.
Artificial photosynthesis systems typically try to reproduce the first step of photosynthesis and convert water into oxygen and hydrogen, the latter of which can then be burned later to generate electricity. So far this has not yet proved cheap and scaleable, but the technology is improving. One problem is that the reaction is highly corrosive; plants get around this by continually rebuilding their photosynthetic machinery.
Copyright
Text
Author: Tom Brown
Copyright: public domain
Date last modified: 13th Oct 2011
Peer-review status: Not yet peer-reviewed
Images
algae: source: Flickr, copyright: CC Attribution