Solar Power: 3. Solar thermal energy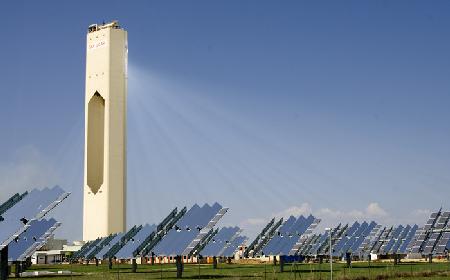 A solar power tower in Spain. Solar panels distributed around the tower focus light onto a receiver at the top, which heats a fluid which can then be used to power a generator.
Another way to harvest solar energy is to use mirrors over a large area to concentrate sunlight onto a small receptor. At the receptor it heats water or some other fluid, which can then be used directly for heating or to generate electricity.
In solar tower designs the light is focused onto the top of a tower, where, for example, water can be heated up to 1000 degrees Celsius. The resulting steam then drives a turbine.
Cost estimates for solar thermal energy are in the range of 120 to 300 US dollars per megawatthour.[1] The installed capacity is currently much smaller than that of solar cells.
Copyright
Text
Author: Tom Brown
Copyright: public domain
Date last modified: 13th Oct 2011
Peer-review status: Not yet peer-reviewed
Images
Solar tower: source: Wikipedia, copyright: CC
Thermal concentrator: source: Wikipedia, copyright: CC